Wednesday, July 13, 2011
Hello fellow Fringers!
Today is the first day of the Winnipeg Fringe Theatre Festival, the weather looks great, the shows look great, the people look...well, great! Okay, so I have to remember not to get too Fringed-out, so I've scheduled a couple days off, but mostly I'll be doing shows, seeing shows (I have my Fringe pass booked), checking out the noon-hour and daily outdoor entertainment, the food vendors, the Exchange shops, cafes, pubs, and of course the beer tent.
I'm looking forward to meeting many of my fellow Fringers in my travels--to hear the latest about how your shows are going, or what shows you recommend, etc.
Today is the first of my Fringe performances of "Cat Ladies, Cougars, & Crones (oh my!)." Show starts at 8:15 p.m. at Venue 5 Son of Warehouse. I'm very proud of my little "Fringe baby" and I hope you stop by and check it out.
Performance and ticket info can be found here:
http://www.winnipegfringe.com/2011-Fringe/fr_perflist.aspx
Remember to stay after and say hello.
Happy Fringing everyone!
Tuesday, June 28, 2011
Fringe Fest would not be Fringe Fest without the Jenny Revue.
Here's my little bit of SSP that I just wrote up and sent in to help (hopefully) entice people to the show. (Cue the circus music. I can hear the carnival barker now):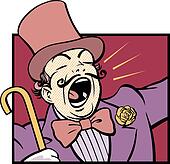 Step right this way folks! Witness one actress portray ten characters in under one hour! Simple math will tell you it's impossible, but no, wait…yes…it IS possible! Witness unbelievable acts of bravery (in a retirement home), jaw-dropping surprises (scandals, affairs, shocking!), hilariously-timed "burns" (sexy cougar vs. feisty cat lady—who will win?), nail-biting, on-the-edge of your seat…ah heck, it's "interesting and funny," "quite engaging," and has "strong, interesting characters." Do see for yourself…
"Cat Ladies, Cougars, & Crones (oh my!)"
Winnipeg Fringe Theatre Festival
Monday, June 13, 2011
The writing of "Cat Ladies, Cougars, & Crones (oh my)" began during training at Prairie Theatre Exchange in their Playwriting class (September 2010-April 2011). At the end of the course, the class had an excerpt of their play performed at a public reading on April 4, 2011.
Feedback forms were collected from the audience, and "Cat Ladies..." garnered the following responses:
When asked if they would like to see the full play, 88% responded Yes, with a great majority finding the dialogue both realistic and humorous.
Written responses included the following remarks:
Interesting and funny.
Quite engaging.
Serious conversation and in comedy. Good themes, so real.
Love the grandmother's dialogue.
Liked the tension build with Lisa and Nicole (characters) several times.
Strong, interesting characters.
Other comments and suggestions were also taken from this feedback and used to revise and hopefully improve upon the play.
Saturday, June 11, 2011
Very excited to announce my venue and showtimes for the 2011 Winnipeg Fringe Theatre Festival:
Venue
"Cat Ladies, Cougars, & Crones (oh my)" will be at Venue 5 (Son of Warehouse) at 140 Rupert Avenue. Further info: Side entrance, 100 seats, air conditioned, no wheelchair access.
Showtimes
Wed, July 13 8:15 PM
Sun, July 17 6:30 PM
Mon, July 18 2:00 PM
Tue, July 19 12:00 PM
Wed, July 20 5:15 PM
Fri, July 22 9:15 PM
Sat, July 23 4:00 PM
To purchase tickets, please go to the Fringe website at:
http://www.winnipegfringe.com/
Cheers, S
Tuesday, April 19, 2011
My first post has got to be on the Winnipeg Fringe Theatre Festival show called "Cat Ladies, Cougars & Crones (oh my!)." Why? Because it is my stage "baby." That's right--I am birthing this puppy for all the world (or at least whoever is in Winnipeg in July and happens to stop by the venue) to see. I wrote it, perform in it, and put the whole thing together (can't quite call it directing, since I'm basically just telling myself where to stand, etc.).
Here's the info on it:
This dramatic comedy tells the story of two sisters (Nicole: a shy, single, "Cat lady" and Lisa: a divorced, libidinous, "Cougar"), their sharp-tongued grandmother "Crone" Memere, and a very eventful afternoon visit at the Sandhurst Retirement Home.
Here's the pic to go with it:
I just completed the program information and sent it to the Fringe. Will hopefully find out what venue I'll be at soon, as well as the showtimes, and will post once this info is available.
I hope y'all will be able to join me at the Winnipeg Fringe Festival this July 13-24 (2011) for an awesomely excellent time.
For more information on the festival, here is the link to their website:
http://www.winnipegfringe.com/