Fringe Fest would not be Fringe Fest without the Jenny Revue.
Here's my little bit of SSP that I just wrote up and sent in to help (hopefully) entice people to the show. (Cue the circus music. I can hear the carnival barker now):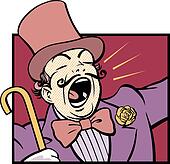 Step right this way folks! Witness one actress portray ten characters in under one hour! Simple math will tell you it's impossible, but no, wait…yes…it IS possible! Witness unbelievable acts of bravery (in a retirement home), jaw-dropping surprises (scandals, affairs, shocking!), hilariously-timed "burns" (sexy cougar vs. feisty cat lady—who will win?), nail-biting, on-the-edge of your seat…ah heck, it's "interesting and funny," "quite engaging," and has "strong, interesting characters." Do see for yourself…
"Cat Ladies, Cougars, & Crones (oh my!)"
Winnipeg Fringe Theatre Festival